Houdini: Tool Development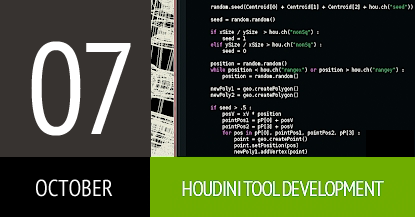 This course is currently under renovation. The new program will be published in July.
Brief description:
Houdini Тechnical Director specialization course is aimed at training Houdini specialists responsible for the technical side of the Pipeline in the studio. Using knowledge in various fields, solving all sorts of technical problems, programming tools, Technical Director is the link between technologies and artists.
The course analyzes a variety of issues: from the beginning of the development of an instrument, selection of the approach and the method to the features and subtleties in solving of various tasks. A lot of code, practical advice and a large amount of Python.
The course will be useful for:
- Those who want to work as technical specialists, engaged in Pipeline construction, instruments creation, technology development, etc.

- Houdini VFX artists, especially FX TD.

- All Houdini artists, who want to explore Python and improve the quality and productivity of their work.
.
Information about the course
Lecturer: Alexey Rusev (Sadrutdinov)
Course result: Certificate and knowledge, scripts and plugins that we will write during the training.
Course duration: 4 months
Price: $500 per month
Type of course: online
The class will consist of weekly lecture videos containing 1-2 integrated questions per video. You'll be emailed with a download link each Sunday or Monday. You can ask any question in Skype chat any time during this course.
Requirements for listeners entering the course:
Good knowledge of Houdini at 3d Artist level. Basic knowledge of programming. Desire to study.